Future Land Use Map Designation Cut Sheet
---
| | | | |
| --- | --- | --- | --- |
| Map Color |   | Sample Zoning  | C-N, C-C, and C-G |
Description

This designation will provide a full range of commercial uses to serve area residents and visitors. Desired uses may include retail, restaurants, personal and professional services, and office uses, as well as appropriate public and quasi-public uses. Multi-family residential may be allowed in some cases, but should be careful to promote a high quality of life through thoughtful site design, connectivity, and amenities.

Sample Policy

Require all new development to create a site design compatible with surrounding uses through buffering, screening, transitional densities, and other best site design practices.
Promote area beautification and community identity through context sensitive building and site design principles, appropriate signage, and attractive landscaping.
Require appropriate building design, and landscaping elements to buffer, screen, beautify, and integrate commercial, multifamily, and parking lots into existing neighborhoods.
Require attractive landscaping and pedestrian friendly design within new developments.
Require the improvement and maintenance of landscaping along public rights-of-way and landscaping of dedicated but unimproved rights-of-way strips.
Minimize noise, lighting, and odor disturbances from commercial developments to residential dwellings by enforcing city code.
Require pedestrian circulation plans to ensure safety and convenient access across large commercial and mixed-use developments.
Site Pattern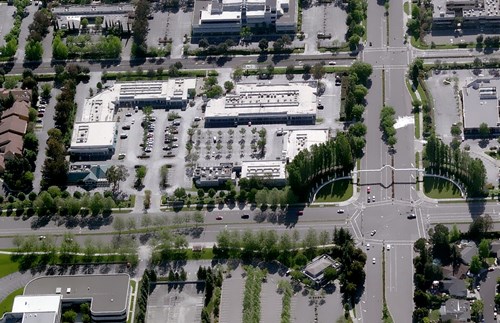 References & Resources
1. City of Meridian Comprehensive Plan
2. Meridian Unified Development Code
3. Meridian Architectural Standards Manual
Notes: See the References & Resources section for additional materials. When determining appropriate zoning of a property, the transition from existing, adjacent zoning designations, as well as future anticipated land use should be considered.