Future Land Use Map Designation Cut Sheet
---
| | | | |
| --- | --- | --- | --- |
| Map Color | | Sample Zoning | O-T |
Description

This designation includes the historic downtown and the true community center. The boundary of the Old Town district predominantly follows Meridian's historic plat boundaries. In several areas, both sides of a street were incorporated into the boundary to encourage similar uses and complimentary design of the facing houses and buildings. Sample uses include offices, retail and lodging, theatres, restaurants, and service retail for surrounding residents and visitors. A variety of residential uses are also envisioned and could include reuse of existing buildings, new construction of multi-family residential over ground floor retail or office uses.

Sample Policy

Encourage the development of high quality, dense residential and mixed use areas near in and around Downtown, near employment, large shopping centers, public open spaces and parks, and along major transportation corridors, as shown on the Future Land Use Map.
Require all new development to create a site design compatible with surrounding uses through buffering, screening, transitional densities, and other best site design practices.
Promote area beautification and community identity through context sensitive building and site design principles, appropriate signage, and attractive landscaping.
Require attractive landscaping and pedestrian friendly design within new developments.
Require the improvement and maintenance of landscaping along public rights-of-way and landscaping of dedicated but unimproved rights-of-way strips.
Support owners of historic buildings in their efforts to restore and/or preserve their properties.
Encourage the integration of public art as an integrated component with new development.
Site Pattern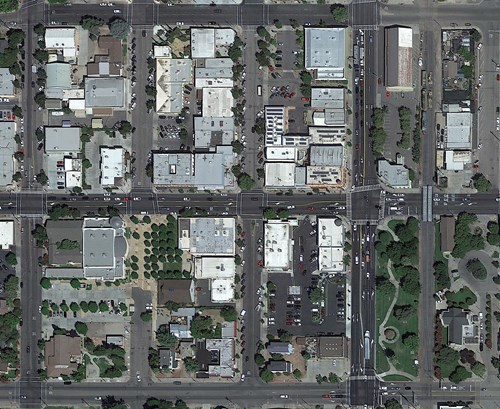 References & Resources
1. City of Meridian Comprehensive Plan
2. Meridian Unified Development Code
3. Meridian Architectural Standards Manual
Notes: See the References & Resources section for additional materials. When determining appropriate zoning of a property, the transition from existing, adjacent zoning designations, as well as future anticipated land use should be considered.