While it seems like only yesterday we were ringing in the new year, it is time to turn our attention to fall activities – back to school events, corn mazes, pumpkin spice everything, and city elections! I cannot believe my office is already preparing for the November 7, 2023 General City Election. Whether this is your first time voting in Meridian, or you are a long-time voter, your ballot will look a little different.
This election will be the first in which Meridian is required to elect City Councilmembers by District. Due to recent changes in State Law in 2020, in August 2022 the City established district boundaries that take effect this election cycle. With the newly implemented districts, residents are represented by a councilmember who resides in their area of the City. Ballots will look different this year because of this, as residents will only see council candidates for that district on their ballot. In November, all Meridian residents will vote for the Office of Mayor. However, only registered voters living in Districts 2, 3, 4, and 5 will be voting for a City Councilmember. If you live in District 1 or 6, rest assured that you are represented by an elected Councilmember serving a current term. To find out which district you live in, you can visit www.meridiancity.org/districts. You can also learn about the current City Councilmember here.
I am hosting a City Election Information Session for anyone interested in learning more about City elections on Monday, August 21, at 5:30 p.m. at Meridian City Hall, 33 E. Broadway Ave. Meridian, in City Council Chambers. Whether you want information about becoming a candidate for Mayor or City Council, or just want to learn about the process, I invite you to attend. If you are unable to attend in person, you can view the session live on the City's YouTube channel at www.meridiancity.org/live. During the session you can even send your questions to communications@meridiancity.org.
Elections are one of the easiest ways to have your voice heard. You can help shape the direction of our City by participating – as an informed voter or as a candidate. If you are interested in being a candidate for Mayor or City Council, you must be at least 18 years of age, a U.S. citizen, a resident of the City of Meridian for at least 30 days before the election, and a registered voter. Additionally, if running for City Council, you must reside in the district you want to represent. As you read earlier, only five of the seven elected offices will be on ballots this November. The Office of Mayor and City Councilmembers in Districts 2, 3, and 5 will be elected to four-year terms, while District 4 will be a two-year term.
The filing period for candidates begins at 8:00 a.m. on Monday, August 28 and ends at 5:00 p.m. on Friday, September 8. Forms for candidates will be available at the Information Session, on our website at www.meridiancity.org/elections, and in person at the City Clerk's Office in Meridian City Hall.
While I am always a little heartbroken when summer draws to an end, I am looking forward to the events that the upcoming season brings – the back-to-school events, the pumpkin patches, and the November 7, 2023 General City Election. If you have any questions regarding the upcoming election, or want to take umbrage with my lack of pumpkin spice enthusiasm, feel free to contact me. I can be reached by email at cityclerk@meridiancity.org, by phone at 208-888-4433 (option 0) or in person at Meridian City Hall in Suite 104.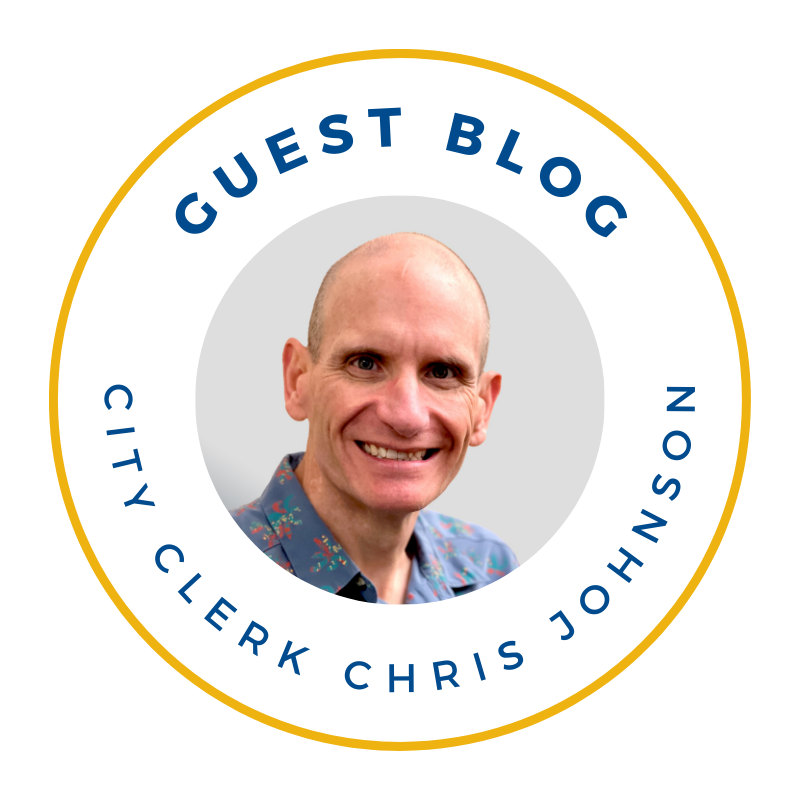 Search City Council Districts by Address
---
There are six City Council Districts, represented by an elected Council Member. As a resident of Meridian, you have a dedicated City Council Member. In addition to contacting the Mayor's Office for comments or concerns, you can also connect with your elected City Council Member. The provided interactive map helps you identify what City Council District an address falls within. It also provides the name of the City Council Member, representing that area of the community. Click here », or on the map image to access the interactive map.
Learn More
---
Districting determines which neighborhoods and communities are grouped together for purposes of electing a City Council member. To learn more about the districting process, view our interactive map here », or view City Council contact information here ». To learn more about the district commission's establishing process, view the Districting Committee information here ».

If you have any additional questions, please contact the City Clerk's office by emailing cityclerk@meridiancity.org or calling (208) 888-4433.