Amenities & Features
---
Picnic Shelters Available to Rent
Shelter #1- Capacity of 200 - Rental fee is $75 per 4-hour time block (9am-2pm or 4-9pm)
Shelter #2- Capacity of 100 - Rental fee is $60 per 4-hour time block (9am-2pm or 4-9pm)
Shelter #3- Capacity of 50 - Rental fee is $50 per 4-hour time block (9am-2pm or 4-9pm)
Note: Shelters #1 and #2 currently have charcoal grills that are free for use by shelter users.
General Areas - Bike Racks, Drinking Fountains, Mutt Mitt Stations, Off-Street Parking, Open Play, Pathway, Pond - Fishing, Trash Receptacles
Adventure Island Playground Area - Concessions, Idaho's First Universally Accessible Playground, Little City of Rocks, Monuments - Rock, Picnic Shelter (1), Restrooms, Splash Pad, Sound Garden, Swings, Tree of Hope, Shade Structures, Tables & Benches, Trash Receptacles
Settlers Village Square Area - Picnic Shelters (2), Tennis Courts (2), Tournament-Style Horseshoe Courts (16), Trash Receptacles
Baseball Leighton Family /Softball Complex Area - Baseball/Softball Fields (8), Clubhouse, Concessions, Off-Street Parking, Restrooms, Trash Receptacles
Park Map:
---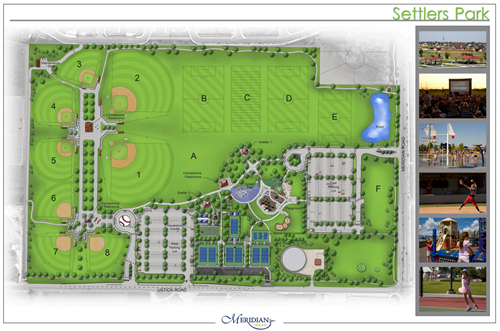 Winter Disc Golf Course ~ 9 hole disc golf course. Dates of operation are November 15th through February 28th.
Splash Pad Runs approximately Memorial Day through Labor Day, 11:00 a.m.-8:00 p.m. Run dates and times are subject to change based on weather, maintenance issues, etc.
Picnic Shelter #1 (next to Adventure Island Playground) Shelter Capacity: 200 Reservation Time Blocks: 9:00 a.m. - 2:00 p.m. / 4:00 p.m. - 9:00 p.m. Daily Shelter Closure Time Block: 2:00 p.m. - 4:00 p.m. (maintenance crew cleaning) Note: This shelter has a charcoal grill that is free for us by shelter users. Picnic Shelter Rental Fee: $75 per Time Block.
Picnic Shelter #1(next to Adventure Island Playground)
Shelter Capacity: 200
Reservation Time Blocks: 9am - 2pm / 4pm - 9pm
Daily Shelter Closure Time Block: 2pm - 4pm (maintenance crew cleaning)
Note: This shelter has a charcoal grill that is free for us by shelter users.
Picnic Shelter Rental Fee: $75 per Time Block
Picnic Shelter #2 (in Settlers Village Square)
Shelter Capacity: 100
Reservation Time Blocks: 9am - 2pm / 4pm - 9pm
Daily Shelter Closure Time Block: 2pm - 4pm (maintenance crew cleaning)
Note: This shelter has a charcoal grill that is free for use by shelter users.
Picnic Shelter Rental Fee: $60 per Time Block
Picnic Shelter #3 (in Settlers Village Square by tennis courts & horseshoe pits)
Shelter Capacity: 50
Reservation Time Blocks: 9am - 2pm / 4pm - 9pm
Daily Shelter Closure Time Block: 2pm - 4pm (maintenance crew cleaning)
Picnic Shelter Rental Fee: $50 per Time Block