The Meridian Community Recycling Fund (MCRF) was developed with the simple intent to offer our citizens the opportunity to help our community increase recycling participation, increase the use of secondary (recycled-content) materials, and create projects that would be accessible to and benefit to the broader community.
Program Funding
The MCRF receives revenue from a portion of the sales from residentially-generated and City parks-generated recyclable materials collected by the City's franchised waste hauler, Republic Services. When commodity markets are strong, Republic Services voluntarily returns a portion of these funds to the City.
The MCRF provides an opportunity to improve the quality of life by advancing and promoting the City's Vision of Environmental Stewardship.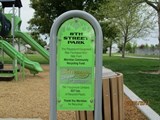 8th Street Park sign indicating that the playground equipment was purchased with help from MCRF and contains 927 pounds of recycled plastic.
Trash bin made from recycled plastic.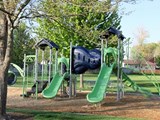 Playground equipment at 8th Street Park.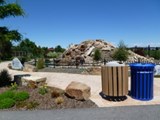 Trash bin made from recycled plastic.
MCRF funds helped purchase these recycled content bleachers.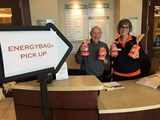 City volunteers distribute Hefty Energybags