Trash or Treasure is an annual community event that provides residents with the opportunity to set out clean, gently used, no longer wanted household items at their curb. Fellow residents (Treasure Hunters) can use an online interactive Treasure Map to locate these items, giving them a new life and diverting them from the local landfill. It's like garage sailing, but free!
Registration is open through April 27 at noon. 
Location: Neighborhoods within Meridian City limits.
Timeframe: Saturday, April 29th, and Sunday, April 30th, 8 am to 8 pm.
Local Donation Business Treasure Hunters: Sunday, April 30th starting at noon.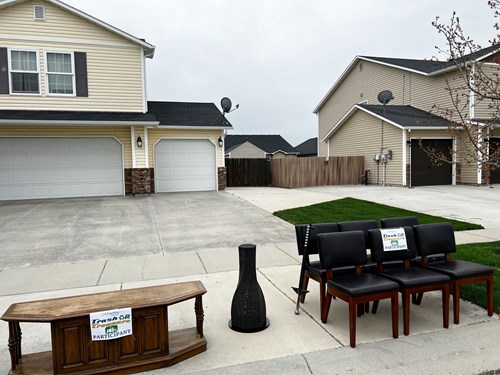 How to participate as a Treasure Giver
---
To have your clean, gently used, no longer wanted household items displayed on the map and available for Treasure Hunters to find, register by clicking "Register Here" towards the top of the page.
On event day, place your items at the curb where your trash and recycling are collected. If trash and recycling are picked up in the alleyway, place items at the curb in front of your home. Ensure any items you do not want to be taken accidentally are removed from your yard.
Print out the Participant Yard Sign » and place it on your items or close to the items you are trying to rehome. 
This event is followed by the residential Spring Cleanup Event » (May 1st - May 5th). If you would like to participate in both, you can sign up within the Trash or Treasure Registration.
How to participate as a Treasure Hunter
---
Being a Treasure Hunter is fun! Use the interactive Treasure Map at the top left of the page to locate areas where items are set out. 
Take what you want to rehome. It's that simple!
DO
Please Remember:
Only clean, gently used, no-longer wanted household items should be placed out.
Place items where your trash is normally collected.
Remove items from your yard that you don't want accidentally taken by mistake.
Place your yard sign in a visible location.
Only take items from yards where a Trash or Treasure Participant sign is present.
After 8 pm on Sunday, only leave out items that you want landfilled during the Spring Cleanup Event.
DO NOT
Please Remember:
Do not participate without registering.
Do not place the following items out for event:

Basketball hoops with cement footings attached
Bathtubs
Boats
Business Waste
Car parts
Construction and demolition debris
Fence posts
Hot tubs
Pianos
Tires
Local Donation Businesses
---
If you are a local donation business interested in acquiring items, the City allows local non-profits to look for items on the last day of the event from noon to 8 pm.