Ada County Dairymen's Association
---
The 1933 photo below shows the important role the dairy industry played in Meridian. In a real economic sense, the creamery was a local counterbalance to the Great Depression, whose advent and course coincided with the emergence of the dairymen's association. Its life-giving tentacles reached from the core of the downtown area to hundreds of area farms of varying sizes and types, all of which had a few milk cows.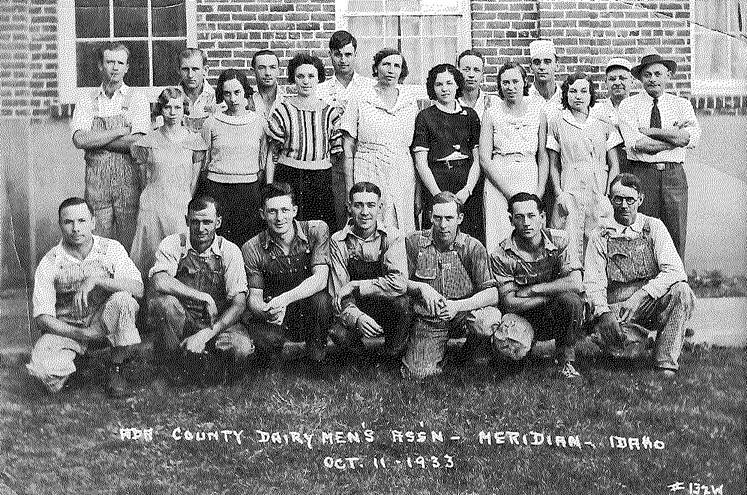 From left to right are (first row) Frank Matcham, Tow Wisner, Whipol Law, Ralph Ausman, Bill Hansen, Ernest Lembke, and Alfred Matcham; (second row) Irene Bowers Sykora, Thelma Bushby, Helen Cairns Bryce, Mabel Gregory Davidson, Hazel McClure Taylor, Ethel Langley, Madeline Wallace-Pape, and H.P. Hansen; (third row) Fay White, Ed Frymer, Warren Bud McGill, Henry McFadden, Ray Matcham, Gerald Records, and Tom Hall.
Farming and Family Tradition
---
This document dated May 18, 1907, certified farmer Angus Hill as the owner of 100 shares of capital stock of the New York Canal Company Limited. Angus arrived in Idaho in 1888 from Powersville, Putnam County, Missouri, and owned sheep in the Mountain Home area before filing a homestead claim on Ten Mile Creek in 1891. He died in 1938 and his eldest son, Angus, took over the family farm, where he raised hay and grain, and also had a herd of dairy cows. As a single man, he followed the example of earlier landowners and donated the first acre of land for the Hillsdale School, a 1st – 8th grade common school. Later, he donated another acre so there was enough land for a ball field and play area adjacent to the school. Currently construction is underway for a new Hillsdale School, an elementary school slated to open in Fall 2016 on the original homestead property and adjacent to the Century Farm subdivision, also on the homestead property.