All of the information below is a direct transcription from Before the Times, a collection of Meridian miscellany from 1883-1909. The Meridian Historical Society gave our community a wonderful give and historic prospective on our communitys past. The society gathers and preserves historically significant materials and makes them available to the public. Thank you to our Meridian History Center, Historical Society, and Historian Lila Hill for the tireless efforts, countless hours, and effort spent on cataloging our history. Without their time, commitment, and dedication this information would be unavailable to our residents.
In 2008 The Meridian History Center was opened. Located in Meridian City Hall it is open Monday through Friday from 1:00 p.m. to 3:00 p.m. We encourage you to stop by and take a look at the variety of artifacts, memorabilia, and photos on display. We hope you enjoy these accounts of Meridians early days and invite you to become a member of the Historical Society and continue to assist them in the important work being done for our community.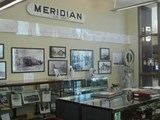 May 21, 1897- Ridenbaugh canal breaks near Meridian
---
A cloudburst last evening caused a disaster to the Ridenbaugh Canal. The break occurred in what is known as the Stanton region about three miles southwest of Meridian. The water came down in a solid wall that nothing could withstand. When it struck the canal, the embankment was swept away like so much sand. The break is 300 or 400 feet long. Manager Green will build a flume to carry the water until the embankment can be rebuilt. This work will occupy a week or 10 days and in the meantime, the Nampa section will be without water. It is supposed that other damage was done, as a large section was flooded by the torrent, but nothing more could be learned last evening than the damage to the canal.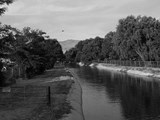 September 15, 1900 - A Swede in a car chase after his daughter
---
A Swede named Nelson created considerable excitement on Main Street last evening. It seems that two of Nelson s daughters ran away from the camp, in which he makes his home across the river two days ago and came to this city. They were sheltered and furnished employment by some friends and had no wish to return home. Last night one of the girls, who is not over 16 years old, came down town with the lady who is sheltering her. By chance, they met Nelson, who had driven to this city with his wife and family in a two-house team, and he at once attempted to secure possession of the girl.
This led to quite a little commotion. The lady and the girl appealed to Officer Bryan, who forced Nelson to keep the peace, telling him that he had his redress in a civil suit, as the girl was unwilling to go with her parents. The lady procured a hack and ordered the driver to drive her home. Nelson did not understand that Bryan was an officer, and when he say him put the pair in a hack, he jumped into his own team and gave hot pursuit, yelling, Robbers! and Stop thief! at the top of his voice.
The hack driver, however, knew the streets much better than the Swede and he finally lost him long enough to allow the little girl and her protector to escape to their home. Afterwards, Officer Bryan took Nelson to the city hall and explained matters to him at length. Finally, Nelson went to his camp across the river, after trying in vain to find out where his daughter had been spirited away. There will probably be some interesting developments to the case.
May 13, 1901- Story of insanity
---
Carl Jones, a traveling painter, was yesterday brought to this city form Meridian by Sheriff Daly and Deputy Andy Robinson and lodged in the county jail. He is evidently insane. Early yesterday forenoon a telephone message was received by the sheriff requesting him to go over to Meridian and take a man who claimed he was in instant danger of death at the hands of a mob hunting someone charged with rape.
They went on the noon train. Arriving at Meridian they were met at the depot and told the man was in hiding in the second story of the creamery building, where the kind hearted proprietors had allowed him refuge. The people there could make neither head nor tale of his story. Sheriff Daly, Deputy Robinson, and a Statesman reporter at once went over to the creamery and were taken to the hiding place of the man. He was sitting crouched upon a couch, the fear of death in his attitude and the gleam of insanity blighting his eye.
He told a story to this effect: He had been employed till about a week ago as a painter at the Swan Falls power plant. Upon completion of the work he was discharged. Coming to Boise he received his money, quite a goodly sum, and then began a short career of dissipation. He says he is unaccustomed to drink, and that it overcame him frequently.
Friday he started into the country for work. He had but 25 cents with him. All went well, so far as he knows, till Saturday night. Early that evening he applied at the Thompson ranch for a nights lodging, offering his last cent in payment, but this was not accepted, the bed being given to him without price. He went to bed early and soon after a man and woman appeared in the room, he says. They first put something into his ears so he could not hear, and then injected into his mouth some substance which compelled him to talk. They harassed him thus for an hour. Then after they had gone, a large number of men crowded into his room. The spokesman, a hard looking man, accused Hones of having committed a rape in the neighborhood. He denied the charge, but the men did not believe him. They compelled him to get up and dress and go out with them.
Then began a chase lasting till well along in the forenoon of yesterday. He of course attempted to get away, but they followed him relentlessly. He says they were just hounding him on till it should be midnight, when they intended his death. They were close upon me. The poor fellow said. It meant death if I was in their clutches after midnight. I came to a ditch and crawled into it, with only my nose above water. But they found me there and hounded me on again. Finally, however, they met a neighbor who had seen Jones at Swan Falls and he said it was the wrong man. At this time, all but a dozen pursuers went home, or to hunt the real perpetrator of the deed. Those who remained kept running Jones till long after day. All the time, he noticed, they tried to keep him away from Meridian and from all houses.
He finally escaped and ran into Meridian, breathless, barefooted, and with his head exposed to the hot rays of the sun. Here kind hearted folk gave him an old pair of shoes and a hat; though all the while he was waiting, he was evidently in abject terror. As soon as he had put on the articles of clothing, he started off again, ending at the creamery. He entered immediately asking for the operators to give him shelter, saying there was a horde of men in pursuit, charging him with a crime he had not committed. They allowed him to go upstairs and, at his request, closed the trap door.
Soon after reaching security in the creamery, he requested a sheet of paper and a pencil, and wrote the following letter: Mrs. Gertie Duff, 3763 Twentieth St., San Francisco, California. Dear Sister, I ll drop you a few lines to let you know that I am in serious danger, on an innocent charge. If all right, I will write from Boise, if not, you find out and get my body as soon as you are able. I will state the particulars if all right. Carl Jones . When the officers made themselves known, he exhibited the greatest pleasure, being assured that no harm could come to him. He told them in confidence that over 100 men had been to the creamery since he had taken refuge, with intent on killing him. The officers believe him to be crazy, but that it was probably brought on by drink and exposure, and that a few days rest at the jail will probably set him right again.