Liz Strader is a local Meridian mom, business owner, and Idaho native, who began serving on Meridian's City Council in January 2020. Liz is passionate about developing our local Meridian economy, helping us grow wisely while protecting our quality of life, keeping Meridian debt-free, finding sustainable approaches that both save money for taxpayers and demonstrate proper stewardship of our environment, engaging deeply in all matters related to the City of Meridian, and giving back to our community. 
Liz grew up in the Treasure Valley and moved back home to Meridian from New York when her children were young to raise them here in the community close to both her and her husband's families.  Beginning in 2020, she found some silver linings in the pandemic and discovered her love of home education as she has been taking this opportunity to teach her children for two years at home.  
Liz's professional ventures include co-founding a loan syndication advisory and consulting business called Pro Syndicate focusing on management consulting for loan syndications, a specialty within the capital markets.  Liz is also an investor, helping companies get started through seed funding. Previously, Liz spent over a decade working in commercial real estate and finance in New York, with experience founding high-performing, specialized lending teams there.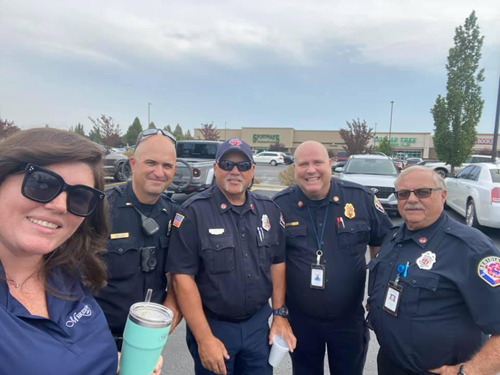 She was a Managing Director in Capital Markets for Capital One where she built, hired, and managed a Loan Syndication team she helped build from the ground-up over eight years.  Liz started her career in finance at SG Americas Securities in their Capital Markets department.   
Liz obtained her bachelor's degree in psychology from the College of Idaho, and her graduate certificate in commercial real estate from NYU. Liz loves learning new things and enjoys diving into the land use and budgeting matters on our City Council.  In her free time, she loves to travel and do craft projects.   
Term expires: January 2024
To contact Liz Strader:
E-Mail: lstrader@meridiancity.org
Phone: 208-489-0542
Address: 33 E. Broadway Avenue
Meridian, Idaho 83642
Liz is utilizing Virtual Scheduling:
She hosts in-person meetings on a rolling 30 day basis on Tuesdays during business hours at City Hall, and virtual / telephone meetings on Thursday evenings and early on Friday mornings to accommodate different work schedules. Scheduling is online via her website at https://www.lizlovesidaho.com/meet-liz-1
**Note - if you need a different time, we can try to work with your schedule, please email Liz.**