Future Land Use Map Designation Cut Sheet
---
| | | | |
| --- | --- | --- | --- |
| Map Color |   | Sample Zoning  | Varies by project and location |
Description

This designation allows for the development of multi-family homes in areas where high levels of urban services are provided and where residential gross densities exceed twelve dwelling units per acre.

 Development might include duplexes, apartment buildings, townhouses, and other multi-unit structures. A desirable project would consider the placement of parking areas, fences, berms, and other landscaping features to serve as transitions between neighboring uses. These areas are compact within the context of larger neighborhoods and are typically located around or near mixed use commercial or employment areas to provide convenient access to services and jobs for residents. Developments need to incorporate high quality architectural design and materials and thoughtful site design to ensure quality of place; they should incorporate connectivity with adjacent uses and area pathways, attractive landscaping, gathering spaces and amenities, and a project identity.

Sample Policy

Require all new development to create a site design compatible with surrounding uses through buffering, screening, transitional densities, and other best site design practices.
Promote area beautification and community identity through context sensitive building and site design principles, appropriate signage, and attractive landscaping.
Require pedestrian access connectors in all new development to link subdivisions together and to promote neighborhood connectivity as part of a community pathway system.
Require appropriate building design, and landscaping elements to buffer, screen, beautify, and integrate commercial, multifamily, and parking lots into existing neighborhoods.
Encourage the integration of public art as an integrated component with new development.
Site Pattern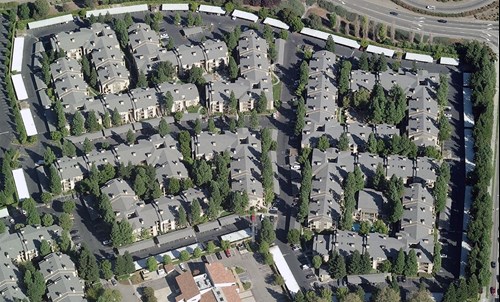 References & Resources
1. City of Meridian Comprehensive Plan
2. Meridian Unified Development Code
3. Meridian Architectural Standards Manual
Notes: See the References & Resources section for additional materials. When determining appropriate zoning of a property, the transition from existing, adjacent zoning designations, as well as future anticipated land use should be considered.