Future Land Use Map Designation Cut Sheet
---
| | | | |
| --- | --- | --- | --- |
| Map Color | | Sample Zoning | C-N, C-C, and C-G |
Description

This designation will provide opportunities for low-impact business areas. These uses would include professional offices, technology and resource centers; ancillary commercial uses may be considered (particularly within research and development centers or technological parks).

Sample Policy

Require all new development to create a site design compatible with surrounding uses through buffering, screening, transitional densities, and other best site design practices.
Promote area beautification and community identity through context sensitive building and site design principles, appropriate signage, and attractive landscaping.
Require appropriate building design, and landscaping elements to buffer, screen, beautify, and integrate commercial, multifamily, and parking lots into existing neighborhoods.
Require attractive landscaping and pedestrian friendly design within new developments.
Require the improvement and maintenance of landscaping along public rights-of-way and landscaping of dedicated but unimproved rights-of-way strips.
Locate smaller-scale, neighborhood-serving commercial and office use clusters so they complement and provide convenient access from nearby residential areas, limiting access to arterial roadways and multimodal corridors.
Reduce the number of existing access points onto arterial streets by using methods such as cross-access agreements, access management, and frontage/backage roads, and promoting local and collector street connectivity.
Site Pattern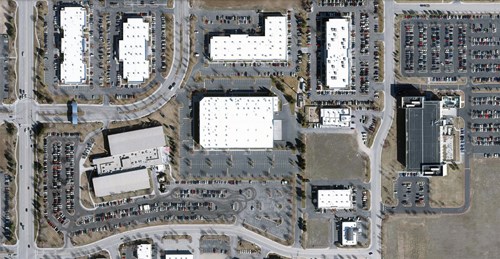 References & Resources
1. City of Meridian Comprehensive Plan
2. Meridian Unified Development Code
3. Meridian Architectural Standards Manual
Notes: See the References & Resources section for additional materials. When determining appropriate zoning of a property, the transition from existing, adjacent zoning designations, as well as future anticipated land use should be considered.