Meridian is working to create an extensive bikeway and pathway network for its citizens and visitors that will provide more options for recreational and commuting cyclists and pedestrians. Pathways are typically constructed and maintained by either developers or the Meridian Parks Department, while on-street sidewalks are typically constructed and maintained by the Ada County Highway District (ACHD).
Multi-use Pathways
---
The Meridian Pathways Master Plan is a tool used to guide pathway development over the next 20 to 50 years. The Plan proposes an extensive pathway network stemming from the existing canal system within and around the City. The Plan includes an inventory of existing pathways and micro-paths, as well as a comprehensive network of future pathways that will connect residents to schools, parks, businesses, neighborhoods, and various recreational and entertainment destinations. For more information on the City's pathway plan click here: Meridian Pathways Master Plan ».
Community Programs and Safe Routes to Schools
---
Community Programs includes future pedestrian/bicyclist projects. These ACHD-funded projects are developed to expand and enhance a safe, efficient, and accessible pedestrian and bicycle network for all residents of Ada County.
Community Programs projects emphasize safe routes to school, support the reduction of school safety busing, work toward ADA compliance countywide, and encourage community and neighborhood involvement.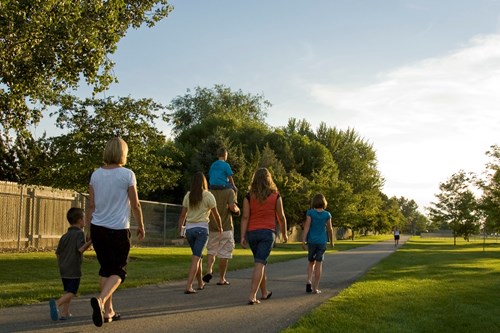 ACHD accepts project applications from neighborhood organizations annually. For more information, please contact ACHD's Planning & Programming Division at 208-387-6119 or visit ACHD's Projects webpage.
For information on Safe Routes to School visit http://walkitbikeit.org/